Barley Snyder Partner Jennifer Craighead Carey appeared on the talk show "PA Newsmakers" on July 29 to discuss the ongoing opioid abuse issue and its effects in the workplace.
The piece starts at the 14:45 mark and can be found here.
The weekly show is broadcast on local affiliates throughout Pennsylvania as well as on Pennsylvania cable news network PCN.
The show is hosted by Franklin & Marshal professor and state issues expert G. Terry Madonna.
She will also be part of a panel discussion on the topic Friday in Lancaster County. Find out more about the event here.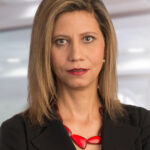 ---