For Immediate Release
Lancaster, Pa. – Barley Snyder is pleased to announce that the prestigious "Best Lawyers" list includes 30 Barley Snyder attorneys on its 2022 edition.
The honored attorneys were recognized in 52 total practice areas.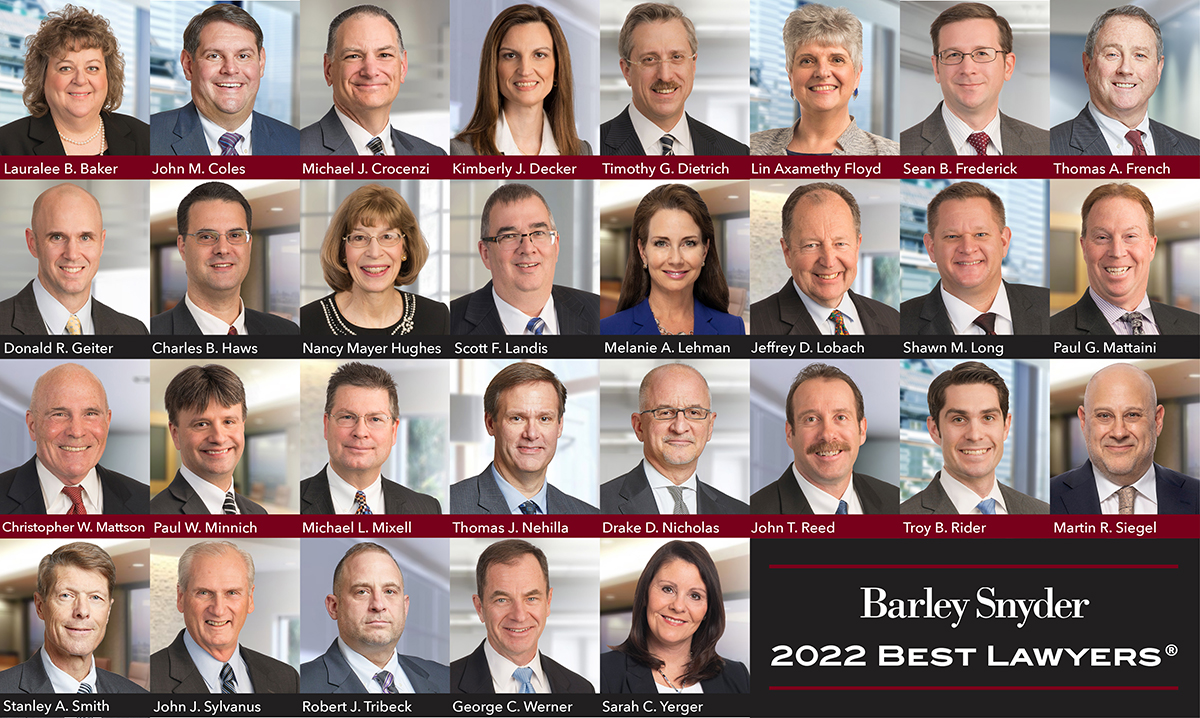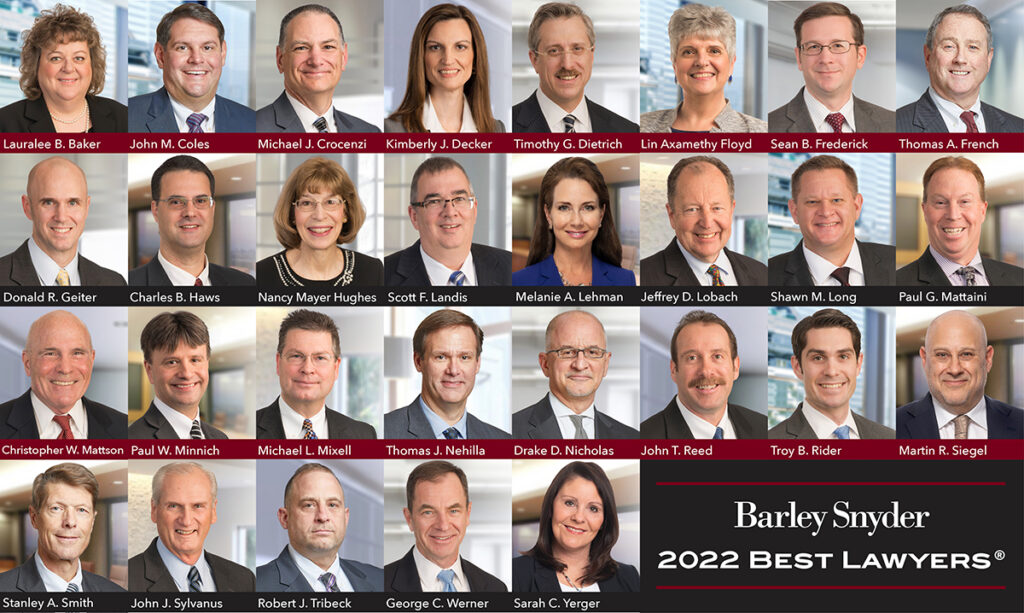 In addition, Michael L. Mixell earned the rank of 2022 "Lawyer of the Year." The award is bestowed on the attorney that earns the highest peer review ranking in a practice area within their geographic area. Mixell earned the distinction in the Trusts and Estates practice.
"'Best Lawyers' continues to hold our firm in remarkably high regard," Barley Snyder managing partner Jeff Lobach said. "Our peers in the profession that vote on this list also see the abilities of these attorneys. It's a credit to all of them that their professionalism shines through bright enough that others can't help but notice."
The 30 attorneys that made the overall list are (specific practice area honors indicated in parentheses):
Lauralee B. Baker (Health Care Law, Litigation – Health Care, Medical Malpractice Law – Defendants)
John M. Coles (Real Estate Law)
Michael J. Crocenzi (Employment Law – Management, Labor Law – Management, Litigation – Labor and Employment)
Kimberly J. Decker (Banking and Finance Law)
Timothy G. Dietrich (Banking and Finance Law, Corporate Law)
Lin Axamethy Floyd (Patent Law)
Sean B. Frederick (Corporate Law)
Thomas A. French (Commercial Litigation)
Donald R. Geiter (Bankruptcy and Creditor Debtor Rights / Insolvency and Reorganization Law, Commercial Finance Law, Mergers and Acquisition Law)
Kathleen A. Gray (Municipal Law)
Charles B. Haws (Energy Law, Environmental Law)
Nancy Mayer Hughes (Trusts and Estates)
Scott F. Landis (Bankruptcy and Creditor Debtor Rights / Insolvency and Reorganization Law)
Melanie Albert Lehman (Corporate Law)
Jeffrey D. Lobach (Commercial Litigation, Corporate Law, Real Estate Law)
Shawn M. Long (Bankruptcy and Creditor Debtor Rights / Insolvency and Reorganization Law, Litigation – Bankruptcy)
Paul G. Mattaini (Banking and Finance Law, Corporate Law, Mergers and Acquisitions Law, Securities / Capital Markets Law)
Christopher W. Mattson (Personal Injury Litigation – Defendants)
Paul W. Minnich (Litigation – Real Estate)
Michael L. Mixell (Closely Held Companies and Family Businesses Law, Trusts and Estates)
Thomas J. Nehilla (Construction Law, Real Estate Law)
Drake D. Nicholas (Employee Benefits (ERISA) Law)
John T. Reed (Closely Held Companies and Family Businesses Law)
Troy B. Rider (Business Organizations, including LLCs and Partnerships)
Martin R. Siegel (Environmental Law)
Stanley A. Smith (Nonprofit/Charities Law, Trusts and Estates)
John J. Sylvanus (Litigation – Construction)
Robert J. Tribeck (Litigation – Intellectual Property)
George C. Werner (Commercial Litigation, Litigation – Banking and Finance, Litigation – Construction, Litigation – First Amendment)
Sarah C. Yerger (Commercial Litigation, Employment Law – Management, Health Care Law, Labor Law – Management) 
About Barley Snyder
Barley Snyder is a law firm based in central Pennsylvania with more than 100 attorneys practicing from offices located in Lancaster, York, Reading, Harrisburg, Malvern, Hanover, Gettysburg and Schuylkill Haven, Pa., and Hunt Valley and Columbia, Md. The firm serves businesses, individuals and organizations in all major areas of civil law including: business, employment, immigration, employee benefits, finance & creditors' rights, intellectual property, litigation, estate planning and administration, real estate, tax, construction, environment and energy, health care, education, municipal authority, hospitality, senior living, cybersecurity and food and agribusiness. www.barley.com | @BarleySnyder
###
________________________________________________________
Media Contact: Michael Sadowski, Communications Coordinator
msadowski@barley.com or 717-208-8842
---